---
Articles On Line Advertising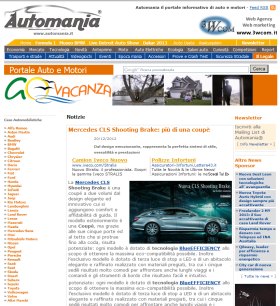 What makes some products or services by company are instant Internet hits while others remain under the radar? One of the options is: Articles On Line Advertising.

3Wcom offer the possibility to publish yours news on Automania News Auto (http://www.automania.it). Automania is a online media press specializing in automotive and its News are read by more internet users each day and about 500.000 pages view a mounth. Automania provides tips to help your company on the Web in italian language If you want to give visibility to your products, services or news in Italy, and offer you the opportunity to do that Online and Social Network, at the lowest cost.

Your Web site is finally live, the real work begins. Internet advertising can help you reach more of people at a fraction of the cost of traditional marketing techniques. Articles On Line Advertising is an option not really expensive and effective. Content can include two images, links, video, either material created by the brand, or external content such as social media, product or service reviews, or news.

Why Internet Articles advertising?
With a well-established track record and result-oriented background, its services have always met with greater customer satisfaction. Automania offers great service at a very competent price.

With its innovative digital advertising strategies the key to all marketing activities and astonishing networking opportunities, Automania brings to you a new digital advertising strategy through its service offerings.

This comprehensive resource supplies the latest news releases, detailed information on industry projects, event information and latest articles and publications from various experts in the automotive sector. For more details, please contuct Automania (http://www.automania.it/contatti.asp).